After the success of our Circular Society Network's Matchmaking Events in London, we are now launching CSN & Partners during COP 27!
This format is a fantastic opportunity to share knowledge with local and sustainable partners in London, host talks and debate, highlight solutions from CSN Members to a new audience whilst we keep building relationships and new partnerships focused on accelerating our sustainable transition!
And of course, always in a very warm atmosphere!
Are you ready to make London a sustainable and circular city? Let's go!
CONTEXT:
Our Sustainable Transition doesn't have to be only about cutting emissions and making sacrifices.
It can also be an exciting journey full of Human and Business Opportunities…For Good.
The Circular Economy is a very effective way of limiting our environmental impact and will represent a $4.5 trillion opportunity by 2030.
Join us to discover the vision behind The Circular Society Network, and the opportunities this represents for the Real Estate sector.
*The CSN is the professional network of The EA Project, including 238 leaders and experts on 6 continents working in the most influential industries: Agriculture/Agritech/Food & Drink Industry, Construction/Property, Manufacturing/Supply Chain/Packaging, Energy, Retail, Finance/Investment, Transportation/Mobility, Consultancy, Innovation. All are welcome to participate and join us to make London, a Circular City and accelerate our transition as a society.
SPEAKERS ANNOUNCEMENT
Chantal Amador is the founder of The EA Project and The Circular Society Network. Over the past 15 years she assisted leaders in multi industries & sectors including Real Estate at Nexity. In 2017, she joined one of the top Construction groups worldwide, Bouygues, to promote and facilitate the transformation and brand new services of one of their local subsidiaries in France, a consulting and engineering company specializing in Sustainable Real Estate, Smart & Resilient cities. This entity , ELAN, is considered as the most innovative entity of the group by its CEO, Mr Bouygues. There, she worked closely on consulting and R&D projects for Bouygues' own R&D department related to circular economy, the first 3D printed social house in France, innovative materials, tech, smart buildings/cities, and more.
Kevin Daniels is the founder of ATP Biodigester. He has 15 years of experience in property investing and is a venture engineering specialist, connecting funds with market opportunities in diverse sectors, notably concerning clean-tech energy. He has executive experience and expertise in identifying early-stage businesses with growth potential and in locating resources to accelerate development. He has a particular interest in versatile financial structuring to produce maximum long-term investment value at minimum risk. Extensive project portfolio with main emphasis on waste to energy projects.
Ryan Menezies is the Head of Sustainability at Coreus Group. He has experience working across a variety of industries, including mining, construction, and professional services. He has a keen interest in creating executable sustainability strategies, with specialist knowledge in whole life cycle assessments, carbon reporting and net-zero construction. Ryan is focused on decoupling growth from excessive natural capital use in construction.
Aleksandra Smith-Kozlowska is Director at JustOne, a passionate sustainability consultancy on a mission to transform the world; one business at a time. She is an experienced sustainability strategist who has worked with all types of organisations, from multinational corporates like JLL to SMEs and governmental bodies. She has supported a wide range of businesses in shaping their Net Zero Carbon strategies, setting impactful but manageable goals. She specialises in embodied carbon and circular economy within the real estate sector.
Esther Dörpinghaus is a site manager for Crate To Plate, an urban farm based in London, passionate about the concept of "15-minute cities" where everyone has access to fresh produce within 15 minutes from their homes. They set up their first urban farms in London, to offer consumers a wide range of super fresh lettuces, leafy greens and herbs, all delivered within 24 hours of harvest, available by home delivery or at select greengrocers throughout London. Esther controls the environment inside the farm. By using the latest technology and eco-friendly innovation, their monitored vertical farms ensure that greens can be grown locally in urban environments, all year round, using minimal water, with zero carbon footprint in transporting from farm to customer.
Born in Sweden, Fredrik Bergsten has always had a passion for sustainability. He has spent most of his career in the office interiors industry, where he held various roles within Steelcase both internationally and locally in the UK before joining Kinnarps UK as the Managing Director. His experience has given him a unique insight into work, workers, and workplace. He is a great believer that space has a significant impact on the performance of any company.
ABOUT THIS EVENT
Are most buildings designed today already obsolete? What are the opportunities we may be missing in Real Estate when it comes to evolving in a sustainable and circular economy, city and society?
We've been living in a linear economy, and therefore thinking in silo models for centuries.
This has had terrible consequences on social and environmental aspects because we lost sight of the big picture and of how our decisions impact our global ecosystem now, but also for decades to come.
Impactful climate action resides in behaviour and mindset change. And change occurs when it's made as easy as possible and rewarding. Immediately.
Insulation, energy efficiency, and decarbonisation of our supply chains are essential when it comes to our sustainability transition and cannot be ignored. But it doesn't mean that we need to remain solely focused on repairing the old.
In a highly disrupted society, priorities, lifestyles, and budgets have completely changed and buildings must adapt now. More than just adapting, real estate can lead behavior change and unlock new markets.
It's time to build something new that can help repair the old whilst breaking the vicious circle of linear and silo thinking for our future.
How can we shift our mindset from 'having to go through' this sustainable transition to a more entrepreneurial mindset embracing the new markets that a Circular and Inclusive Society and Economy can offer whilst also creating a positive value loop for our People and our Planet?
What leading role can Real Estate play in this new ecosystemic approach?
In a new events series produced by The EA Project (Events for Action) and in partnership with Kinnarps UK, join The Circular Society Network and its local partners to discuss the exciting opportunities our sustainable transition represents for Real Estate when we go from linear thinking to circular thinking.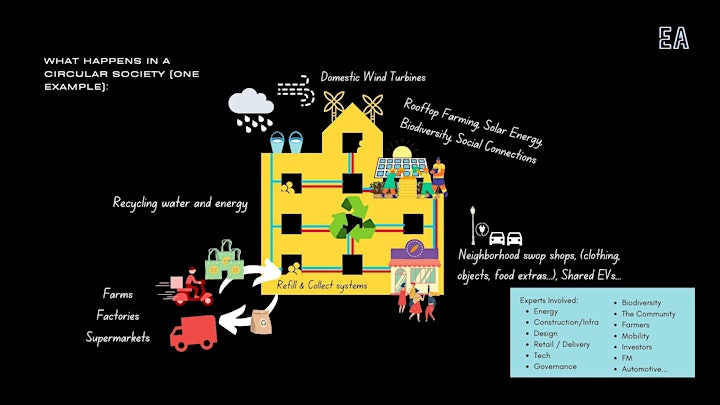 PROGRAMME
4.00 – Check-In and installation
4.10 – Welcome to Kinnarps' exclusive showroom! – Fredrik Bergsten, Managing Director, Kinnarps UK
4.15 – Welcome to CSN & Partners: Making London a Circular City: It's not only about a Circular Economy. What is a Circular Society? – Chantal Amador, Executive Director and Founder of The Circular Society Network and The EA Project.
4.35 – Going beyond net-zero: adding value to buildings by converting them to hubs for new sustainable practices & markets – Roundtable animated by Chantal Amador
5.15 – Discussion with the audience + Q&A
5.30 – Visit of Kinnarps' showroom
5.45 – Circularity and Sustainability by Kinnarps – Fredrik Bergsten, Managing Director, Kinnarps UK
6.05 – Competitive Quiz – Join a Team and compete to win!
6.15 – Jury's deliberation / Group Networking
6.25 – Winner's announcement & Drinks Reception / Networking
8.00 – End of the event
[New] If you became a CSN member after August 2022, you will add 5 points to your House as part of The CSN Climate League!
WHAT WE DO
Knowing where to start when everybody has been working in silos for years can seem complicated, but it doesn't have to be.
The EA Project creates creative and engaging events that help us accelerate our Sustainable transition by enabling cross-sector discussions around Circular and Sustainable Solutions leading to new business opportunities and "value loops" ecosystems.
We give a place for these discussions to occur so we can learn to collaborate in ecosystems rather than silos, enabling us to deliver a new positive outcome for us now and for the following generations.
OUR PREVIOUS REVIEWS :
"It was a wonderful event! Although it was my first time at this event, I really enjoyed meeting people and made some good friends. Thank you so much guys."
"The work put into this event was something else. Truly game-changing. Thanks so much!"
"We are already planning a meeting post-event to take this further."
"I almost missed it, which would have been the biggest shame as the evening was fantastic! Thank you for connecting me to so many amazing people."
"Truly inspiring work. The Launch event was an excellent evening, everybody I met was individually unique and great company, a huge thank you for connecting us all up, with your super matchmaking expertise. A massive congratulations to EA and CSN, it is a pleasure to be a member of the group."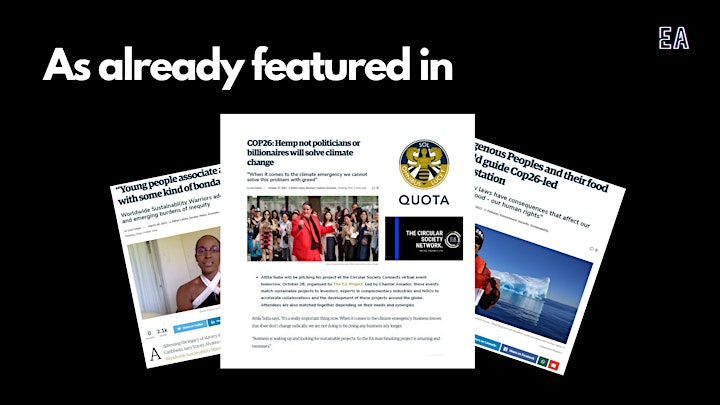 STORY
Founded during the pandemic in 2021, The EA Project has been creating a cross-sector, digital & global community of 238 leaders and experts on 6 continents since April 2021.
Members include various profiles, from C-level executives of major Brands and Companies to NGOs and innovative startups.
London is a global city, perfect to launch our in-person events replicating this virtual concept.
THE ORGANISER
Chantal Amador is the founder of The EA Project, based in London.
Originally from London, in 2009, Chantal produced her first public entertainment events in collaboration with unique artists and performers in the biggest venues in Orleans and Paris (France).
In 2014, she started assisting leaders in multi industries & sectors before joining one of the biggest Construction groups worldwide in 2017, to promote the transformation and brand new services of one of their local subsidiaries, a consulting and engineering company specializing in Sustainable Real Estate, Smart & Resilient cities. There, she worked closely with Bouygues' R&D department and collaborated on projects related to circular economy, innovative materials, tech, and smart buildings/cities.
She had the chance to design, produce and coordinate successful and unique corporate events, conferences, co-design workshops, and panel discussions and develop her skills in sustainability, human adaption to change, and consulting during this period.
She is trained in communication, marketing, management, sustainable and socially responsible event catering, waste reduction and zero food waste events, recycling, sustainable scenography, sustainable mobility, and more.
Chantal joined an association for sustainable events in 2019 where she was part of the team creating a new label for eco-friendly and socially responsible events before moving back to London in December 2020 for this new mission.
In 2021, Chantal incorporated The EA Project and created The Circular Society Network to use all her skills combined to accelerate our transition. She became a Sustainable Procurement Ambassador & Climate Reality Leader the same year, trained by former US Vice-President Al-Gore.
PARTNERSHIPS AND SPONSORSHIPS
contact@the-eaproject.com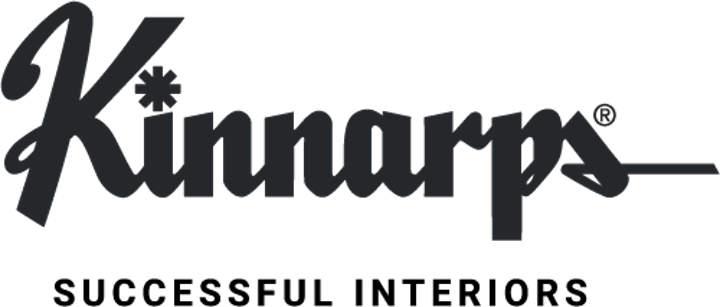 SPECIAL THANKS TO OUR VENUE SPONSOR KINNARPS
We are one of europe's leading supplier of office furniture, with a Scandinavian feel. Kinnarps specialises in office furniture and workplace design solutions for today's creative office. The company was founded in Kinnarp, Sweden, in 1942 by Jarl and Evy Andersson who saw the need for office furniture that was both modern, functional and aesthetically pleasing.
We supply furniture for all kinds of workplaces: everything from open-plan offices, activity-based offices and individual offices to conference, training and meeting rooms, cafés, restaurants and receptions.
As a furniture supplier, Kinnarps has always focused heavily on design and product development. We believe that our office furniture must be innovative, ergonomic, sustainable and aesthetically pleasing. Our aim is to be one step ahead in the field of office furniture at all times, and we have our own research and trendspotting team who look ahead to the offices and workplaces of the future.
Our furniture is well designed, high in quality and has low environmental impact. We take responsibility for the entire value chain, from development, procurement of raw materials and production, to delivery and installation of office furniture and complete interior design solutions on our clients' premises. We also have our own accredited test laboratory for testing our solutions and the sustainability features of our office furniture.
As an office furniture supplier, we are unique in the industry, in that we have our own dedicated logistics system, which enables us to manage and optimise deliveries of office furniture directly to our clients. We use blankets rather than boxes to protect our products: blankets that can be reused and save a great deal of space. As a result, we can deliver more office furniture in one go and we use the minimum of packaging. This benefits the environment through reduced CO2 emissions.
IMPORTANT INFORMATION
TICKETS ARE LIMITED
NO REFUND POLICY
Every registration involves expenses on our side to prepare for your arrival. Our tickets are also limited. This is why we apply a zero refund policy. However, you can send someone to represent you if you cannot honour your registration. Just let us know in advance so we can update our guest list accordingly. Under exceptional and justified circumstances, and if we have very few refund requests for this event, this is open to discussion. Thank you for your understanding.
****
No judgment policy:
Our events are a safe place for everybody, and we apply a zero-judgement and "sustainability shame" policy. We are here to understand your challenges and help, not judge.
(Dress Code: Smart Casual (no trainers, no sportswear and no hats)
(ID required: The venue is a licensed premise and therefore may require identification such as a driver's licence/passport to be presented on arrival)
(Covid 19: All attendees attend this event at their own risk and for the safety of other attendees we would ask that you please do not attend the event if at the time of the event you are infected with or currently displaying symptoms of Covid 19. We also reserve the right to refuse entry to the event to anyone so infected or displaying such symptoms)